Products / Product center
Chuangyi stainless steel water tank
Product category: stainless steel water tank
Our advantages: stock, special materials can be customized; The product has stable performance and long service life.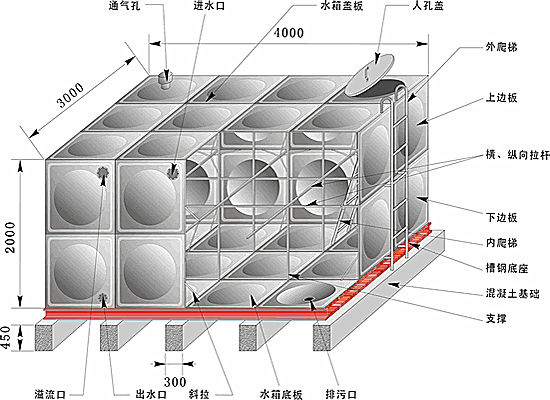 Create a stainless steel water tank (structure drawing)

Product introduction
  304 stainless steel is refers to the use of 304 stainless steel materials, stainless steel water body using convex template (according to the Chinese building standard design atlas 02 s101) assembly welding and become, according to the structure of the scene, different size, different tonnage requirements for flexible assembly, material is less, the structural strength is higher, no large hoisting equipment, transportation is convenient.


Product features
1. The stainless steel fire water tank is generally made of SUS304 stainless steel, with stable physical and chemical properties, no pollution to the water quality, ensuring the water quality is clean and sanitary;

2. stainless steel fire tank stamping molding, high strength, light weight, clean appearance, beautiful and elegant;

3. the water tank board generally adopts high nickel 8.0 above 3042B board, the surface is bright and beautiful, easy to clean;

4. Due to the dense oxide layer on the surface, superior corrosion resistance and good sealing performance;

5. Strong impact resistance and seismic resistance.


Applicable range
1. stainless steel living tank is suitable for large hotels, restaurants, offices, apartments, scientific research buildings and food processing, medical and health, electronics industry and other places with high water quality requirements.
2. all kinds of industrial and civil buildings water supply, heating and ventilation, fire control system; Food, beverage, wine making and water treatment industries; Pharmaceutical, petroleum and chemical industries; Flexible and reasonable plate shape design can be used for containers of various sizes.