Products / Product center
Food grade SUS304 stainless steel water tank
Product name: food grade SUS304 stainless steel water tank
Our advantages: stock, special materials can be customized; The product has stable performance and long service life.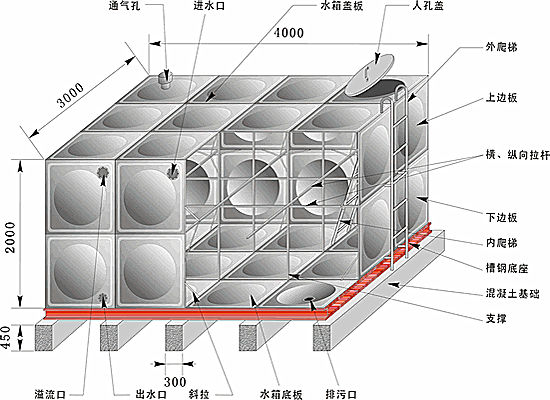 Food grade SUS304 stainless steel water tank (structure drawing)

Product introduction
  Food grade SUS304 stainless steel water tank is a new generation of water tank products after glass steel water tank, its products are made of SUS304 stainless steel plate by precision molding, beautiful shape, economic and practical, the main body in a long time not bad. Compared with other water tanks, with beautiful appearance, light weight, high strength, corrosion resistance, high temperature resistance, clean water, seepage prevention, earthquake resistance, no moss, no secondary pollution, easy installation, no maintenance, easy cleaning and many other advantages.
  Food grade SUS304 stainless steel cistern basically is to use the equipment that stores life to use water, advocate to install life to use water only below average circumstance so, also can install a few other dissolvent, but 10 million cannot install a few alkalescent with acid content very big liquid, for example hydrochloric acid, sulfuric acid these, it is ok. Some people will be habitual in the top of the tank put some sundry, but these are not good, do not let children outside the tank beating or drawing. Some maintenance personnel should also regularly observe the water tank, if there is any problem to timely feedback to shandong chuangyimanufacturers (tel: 0534-2717108). Still do not often open the lid that enters water, can pollute water quality, do not think stainless steel cistern does not grow moss to won't pollute water quality you do not clean, this also is no good, still want to be cleaned regularly every year, eliminate poison.


Product features
1. stainless steel insulation tank is generally made of SUS304 stainless steel plate, with stable physical and chemical properties, no pollution to the water quality, to ensure clean and hygienic water quality;

2. stainless steel heat preservation tank stamping molding, high strength, light weight, clean appearance, beautiful and elegant;

3. the water tank board generally adopts high nickel 8.0 above 3042B board, the surface is bright and beautiful, easy to clean;

4. because the surface has a dense oxide layer, superior corrosion resistance, good sealing performance;

5. Strong impact resistance and seismic resistance;

6. Comparison with other water tanks. Excellent material: excellent food grade stainless steel SUS304 can extend the service life of the water tank, and can better prevent secondary pollution of water quality.


Applicable range
1. ordinary residential, commercial and residential buildings, office buildings, residential communities, offices, hotels, schools and other life, fire water;
2. Water for production and living of industrial and mining enterprises;
3. various types of circulating water, cooling water, hot water supply system water.