Products / Product center
Plastic water tank
Product category: plastic spray water tank
Our advantages: stock, special materials can be customized; The product has stable performance and long service life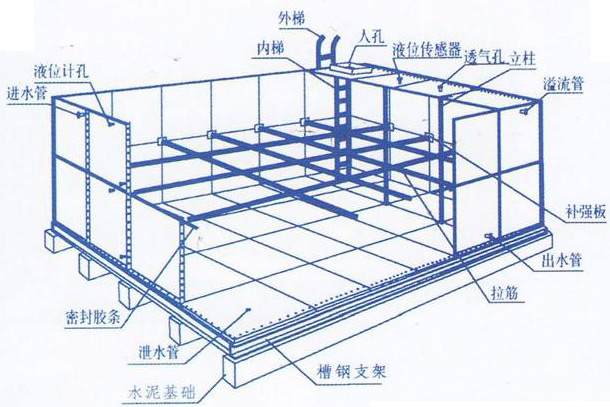 Plastic spraying water tank (structure drawing)

Product introduction
  Plastic spraying water tank is plastic spraying steel plate water tank, assembled plastic spraying steel plate water tank product using Q235 steel plate, stamping to form 1000*1000 and 1000* 500,500 *500 standard block, peripheral drilling, through the surface using electrostatic spraying technology for special anticorrosive treatment of the tank plate, on-site assembly, assembly between the standard block non-toxic rubber pad, bolt connection.


Product features
Spray steel tank its characteristics: high strength, color paint is not easy to fall off, corrosion resistance, anti-aging, no pollution, low cost, more environmental protection, beautiful appearance.


Applicable range
Spraying steel plate water tank is suitable for the storage of building water supply, regulating water tank, heating system expansion, condensation water tank, fire water tank, living water tank and temporary water storage tank for construction, geological survey, industry and national defense projects.