Products / Product center
BDF tank
Product category: BDF water tank
Our advantages: stock, special materials can be customized; The product has stable performance and long service life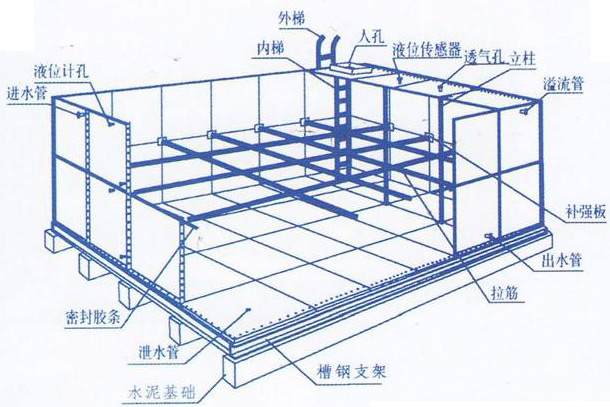 BDF water tank (structure drawing)

Product introduction
  BDF is refers to the fabricated water tank, assembled water tank is assembled by bolts with sealant, and contrasts with the combination of welded stainless steel water tank, each with different advantages of BDF assembled water tank there are three kinds of commonly used materials, is a kind of galvanized steel plate, one kind is 304 stainless steel water tank, and there's a kind of compound steel plate, composite steel plate by galvanized steel and stainless steel composite moulding commonly and into. And 304 stainless steel plate is the most common plate.


Product features
1. BDF fabricated stainless steel water tank is completely bolted. The traditional stainless steel water tank is welded together by a piece of stainless steel press plate, while the BDF stainless steel water tank does not need to be welded at all, but is connected with bolts directly, and the seal is sealed with special oxidation sealing belt.

2. The BDF water tank can be directly assembled according to user requirements, and the assembly range is 0.125-1000 cubic meters. Tank structure good high strength, not easy to damage. Because the water tank is connected by bolts, it completely avoids the defect of corrosion caused by stripping during welding.

3. Since the BDF water tank is completely assembled with bolts, it is convenient to disassemble, so it can be combined at any time, and the capacity can be increased at any time.


Applicable range
BDF assembly tank is widely used in industrial and mining enterprises, institutions, residential buildings, hotels, restaurants and other buildings, as drinking water, fire water and water quality requirements of food, medicine, sanitation and other water storage facilities.