Products / Product center
Buried water tank
Product category: Buried water tank
Our advantages: Stock, special materials can be customized; The product has stable performance and long service life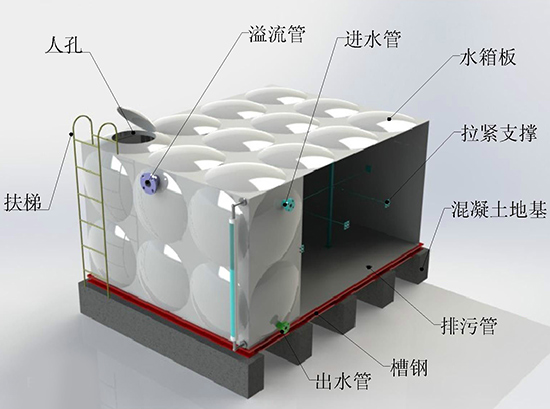 Buried water tank (structure)

Product introduction
  The buried water tank is named because of its location. The buried water tank is usually made of galvanized steel plate or BDF water tank. The structure is composite, and the inner part is DN50 hot-dip galvanized pipe + lock connection.


Product features
1. No pump room: space is saved. The pump and pump room are placed on the water tank and fixed on the dedicated module of the integrated pump station. Occupies only 0.5-1 meter water tank volume;

2. easy to empty: because of the use of the long shaft fire pump, it is the impeller directly hidden in the water, no special air exhaust, as long as the tank level within the specified level can enter the state of fire;

3. Freeze-free cracking: the water tank is under the ground to avoid freezing in winter;

4. Large size: 1-200,000 cubic meters or even larger water tank can be assembled according to requirements;

5. High strength: the structural design is designed by the steel structure engineer of the design institute. The top pressure and lateral pressure are transferred to the box body and then to the steel structure pillar support in the box body;

6. Energy conservation and environmental protection: meet the current national environmental standards.


Applicable range
Buried water tank is widely used in industrial and mining enterprises, institutions, residential buildings, hotels, restaurants and other buildings, as drinking water, fire water and water quality requirements of food, medicine, sanitation and other water storage facilities.