Products / Product center
Enamelled water tank
Product category: enamel water tank
Our advantages: stock, special materials can be customized; The product has stable performance and long service life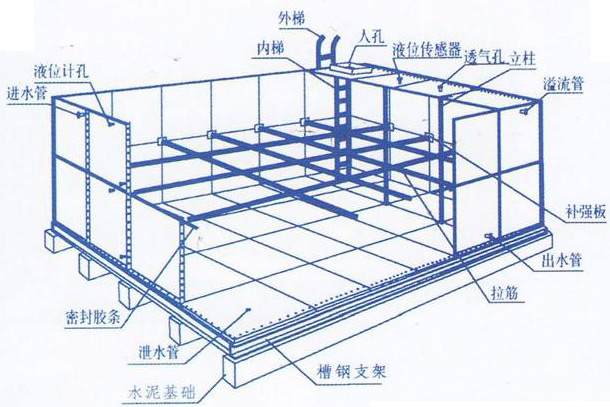 Enamelled water tank(structural drawing)

Product introduction
  The high strength enamel plate water tank is a new type of water tank which is coated with HSC enamel on delta 2-delta 5 steel plates after the plates are fired. The strength of its porcelain layer is 4-5 times higher than that of ordinary daily enamel ware. It is acid-resistant, alkal-resistant, impermeable and leakproof. It is a new technology of water tank anti-corrosion. Its performance indicators in line with the national industry standards, in line with China's laws and regulations of water quality standards and food hygiene standards.


Product features
1. The enamel water tank is clean, clean and beautiful, ensuring the water quality is not polluted;

2. Strong and durable, four plates are set at the junction of the strengthening plate and stainless steel tendons, enhance the assembly enamel water tank firm and stable;

3. Assembly plate on site, convenient, fast, flexible and adaptable;

4. Good impact resistance and earthquake resistance, long service life.

5. Acid, alkali and corrosion resistance;

6. No leakage, no permeability, good sealing performance;

7. The storage of hot water is better than other water tanks, and the storage temperature is 4-65℃. Water storage temperature higher than this value can be put forward when ordering (heat resistant rubber strip is required);

8. enamel water tank internal level and smooth, easy to clean.


Applicable range
Enamel steel plate water tank can be widely used in hotels, buildings, restaurants, scientific research teaching buildings, offices, organs, troops, garden villas, residential areas, entertainment places and other public buildings, medical and health, food processing and other secondary water supply places. It is very convenient to renovate or renew the storage tank of old buildings.