Products / Product center
SMC grp water tank
Product category: GRP water tank
Our advantages: stock, special materials can be customized; The product has stable performance and long service life.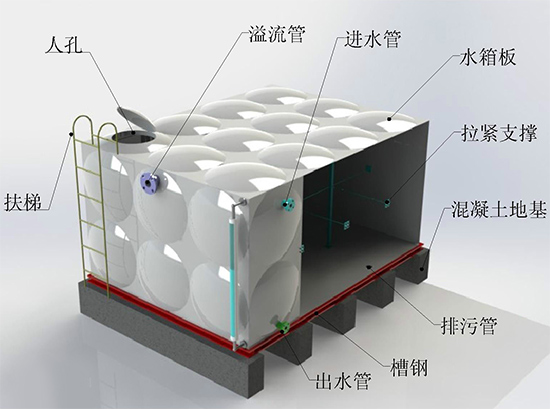 SMC grp water tank (structure drawing)

Product introduction
  GRP water tank overall by high quality SMC water tank board assembly. SMC water tank with light weight, no rust, no leakage, good water quality, wide range of use, long service life, good insulation performance, beautiful appearance, easy installation, easy cleaning and maintenance, strong adaptability. It is an ideal product for public life, fire water and industrial water storage facilities.


Product features
1. Excellent selection of materials: domestic famous brands of resin and glass fiber are adopted to ensure product quality;

2. Special structure: connect the structure with special sealing strip and bolt, which is easy to assemble and won't leak or seal loosely;

3. Fast construction: standard molded plate; Optional assembly, no need to lift equipment;

4. Beautiful box body: white color, more comfortable feeling;

5. Light weight: SMC molded water tank for 1:0.1-0.2, so in the design process does not need to consider their own weight, so it is called portable water tank;

6. Health and environmental protection: no algae and red worms, avoid secondary water pollution, keep the water clean;

7. Reduce cleaning: cleaning every six months can be, greatly reduce the cost of cleaning.


Applicable range
Fire protection system, food, beverage, wine, water treatment industry, pharmaceutical, petroleum, chemical industry glass steel water tank manufacturing.