Products / Product center
Fiberglass fire tank
Product category: GRP water tank
Our advantages: stock, special materials can be customized; The product has stable performance and long service life.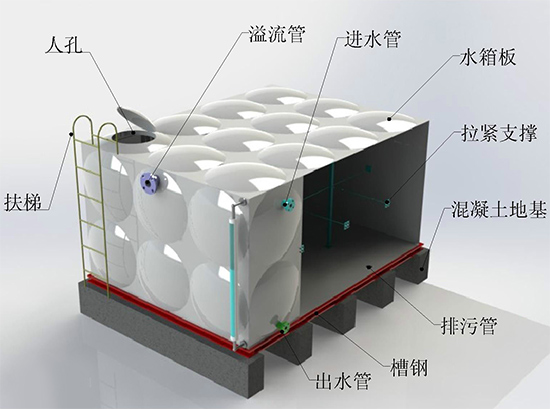 iberglass fire fighting water tank (structural drawing)

Product introduction
  FRP fire water tank is made of SMC mold plate, sealing data, metal structure parts and piping system assembled in the field. It brings great convenience to the planning and construction. The general water tank is planned according to the specification, and the special water tank needs special planning. Can assemble 0.125-1500 cubic meters of water tank according to user demand. If original cistern demand is replaced, do not need to transform a house, adaptability is very strong. Specially researched and developed seal belt, which is reliable, water resistant, elastic, durable and small, fastening and sealing. High strength, no leakage, no change line, maintenance, maintenance convenience.


Product features
1. The fiberglass fire fighting water tank is made of food-grade resin to ensure reliable cleaning of water quality;

2. with no leakage, no deformation, no pollution, long service life and other advantages, and simple assembly, beautiful appearance, can be assembled according to user needs into a different tonnage of water tank;

3. from the glass steel plate outer sub-angle steel frame assembled, Angle steel frame through galvanized, anticorrosive spraying and other series of disposal, can rust, corrosion resistance, extend the service life of the tank;

4. glass plate selection of anti-corrosion function of unsaturated polyester resin, anti-aging agent and platinum glass fiber cloth, according to the required ratio of paste made, with good strength and patience;

5. installation, is from three kinds of material installation is more convenient, arbitrary combination, free choice, easy construction modular modeling, volume can meet any design requirements, simple installation.

6. with pumping water, water supply, overflow water, drainage, into the hole, ladder and other equipment, is the modern construction and old tank transformation of goods.


Applicable range
Fire protection system, food, beverage, wine, water treatment industry, pharmaceutical, petroleum, chemical industry glass steel water tank manufacturing.