Products / Product center
Stainless steel fire tank
Product category: Stainless steel water tank
Our advantages: Stock, special materials can be customized; The product has stable performance and long service life.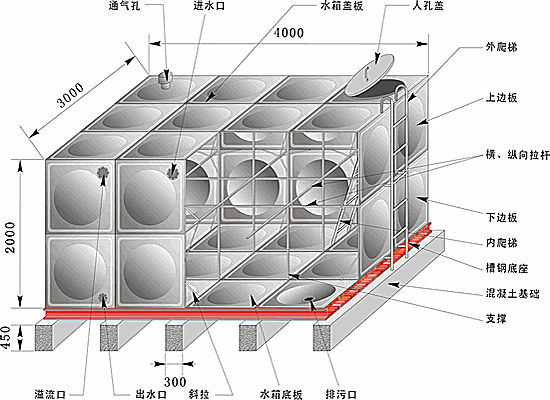 Stainless steel fire water tank (structure drawing)

Product introduction
  Fire fighting water tank is a fire fighting facility providing water for fire brigade in fire fighting and rescue activities. With good water quality, clean without pollution, high intensity, light weight and other advantages. Fire water tank refers to the fire facilities that provide water source for fire brigade in fire fighting and rescue activities. On the one hand, make the fire water supply pipe full of water, save the time of filling the pipe after the fire pump is opened, and win time for fire fighting. On the other hand, the pressurization and pressure regulating system and water tank set on the roof can ensure the water column of the fire gun, which plays a decisive role in the success or failure of extinguishing the initial fire. According to the use of panel material, and divided into stainless steel fire tank, other materials fire tank.


Product features
1. The stainless steel fire water tank is generally made of SUS304 stainless steel, with stable physical and chemical properties, no pollution to the water quality, ensuring the water quality is clean and sanitary;

2. Stainless steel fire tank stamping molding, high strength, light weight, clean appearance, beautiful and elegant;

3. The water tank board generally adopts high nickel 8.0 above 3042B board, the surface is bright and beautiful, easy to clean;

4. Because the surface has a dense oxide layer, superior corrosion resistance, good sealing performance;

5. Strong impact resistance and seismic resistance.


Applicable range
1. Stainless steel fire water tank is widely used in high-rise apartments, factories, schools, hospitals, villas and other fields;
2. Stainless steel fire tank is suitable for large hotels, hotels, offices, apartments, scientific research buildings and food processing, medical and health, electronics industry and other places with high water quality requirements.